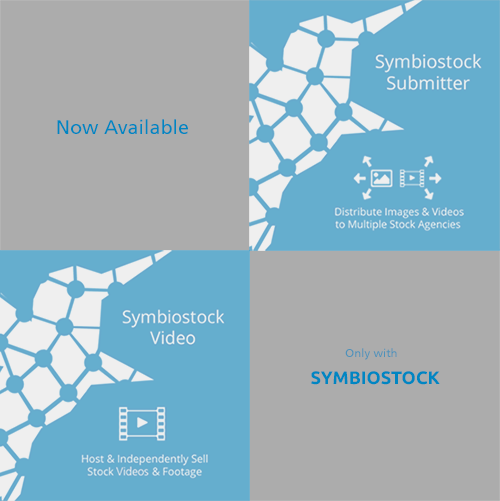 Two invaluable tools which were only available on Symbiostock PLUS, are now available to all Symbiostock users:
With the Symbiostock Submitter you can streamline the tedious task of uploading stock media to multiple agencies from the central hub of your Symbiostock WordPress install. Using FTP, the Symbiostock Submitter allows you to automatically (or manually) submit images, vectors and videos to third party agencies. You can submit stock to as many agencies as you need, so long as the agency supports FTP uploads. This plugin truly eliminates the extra work required for managing multiple submissions. In conjunction with Symbiostock's meta editing features, you can create a setup where all you need to do is upload your media to Symbistock, add meta data information, click publish and that's it – not only is your image/vector/video live on your independent site, it's automatically sent to your third party agencies.
Symbiostock Video
Symbiostock Video is a revolutionary plugin that allows anyone to start selling stock footage through their independent Symbiostock site. If you're a stock video producer, this means you no longer have to rely on stock agencies as the sole means of selling your videos. Once installed, Symbiostock Video permits you to upload a myriad of different video types that will all get processed and added to your Symbiostock store exactly as images do. Your customers will be able to view demo videos, complete with custom watermark protection and instant downloads upon payment! Additionally, a large bonus element of the plugin is that it supports videos that are longer than 1 minute in run time. As this is something that most agencies don't currently offer, you can use this as a unique marketing angle for your independent site. Symbiostock Video is compatible with the Symbiostock Submitter, so you can just as easily submit videos to agencies directly from your Symbiostock site.
These plugins are available for purchase through the Symbiostock store. If you're after both of the plugins, we also provide a heavily discounted bundled option.
https://www.symbiostock.org/wp-content/uploads/2015/12/plugins-blog2.png
501
500
Dawn
/wp-content/uploads/2017/07/logo-blue-1.png
Dawn
2015-12-29 16:30:44
2017-07-14 14:53:04
Symbiostock Video + Submitter - now available to all Symbiostock users!